To watch your little one wail in discomfort due to rashes is undoubtedly the most heartbreaking moment ever. But given that avoiding diapers is not an option, switching to better baby wipes is! Don't let those diaper change sessions be mood spoilers for your baby anymore. With the best baby wipes for diaper rash now available online, alleviating these discomforts is no more a challenge! Infused with natural ingredients, moisturizing and antiseptic properties, wet wipes are now making cleaning time a happy time for mommies and babies. Plus, they smell amazing too!
Looking for natural, chemical-free, and soothing wipes? Himalaya Gentle Baby Wipes is hailed as one of the best baby wipes in India. Enriched with natural ingredients like Indian lotus extracts and aloe vera, these wipes are also infused with Himalaya baby lotion for intense moisturizing, so you don't have to worry about applying one separately. Free from alcohol, silicones, and lanolin, they are also soft but firm enough to clean thoroughly and keep their skin bacteria-free all day long.
Pros:
Wipes with added lotion for intense moisturizing
Gentle and nourishing
Anti-bacterial
Non-toxic, chemical-free wipes
Suitable for normal skin
Cons:
The opening cover may have a weak adhesive.
Infused with the goodness of aloe vera extracts, Mee Mee Caring Baby Wet Wipes have the gentlest touch. Hydrating and soothing your little one's skin while cleansing, you can bid goodbye to rashes forever. Also, anti-bacterial and alcohol-free, they are made of spun lace and non-woven material that is hypoallergenic and dermatologist-tested. So if you are looking for the best baby wipes for
sensitive skin
, this could be it.
Pros:
Aloe vera extracts deliver a cooling effect
Ultra-hydrating and moisturizing
Gentle and hypoallergenic
Dermatologist-tested
Suitable for sensitive skin
Anti-bacterial and alcohol-free
Cons:
No more tears while changing diapers! Supples Baby Wet Wipes has a purely water-based formula, which makes it a great option for newborns and babies with delicate skin. Other than being skin-friendly, hygienic, and non-allergic, it is enriched with aloe vera extracts and vitamin E, which means they are intensely moisturizing. Soothing the baby's skin with a cooling effect and maintaining the pH balance of the skin, it is also 100% free from alcohol and parabens.
Pros:
Pure water-based formula
Prevents dryness, irritation
Hygienic, non-allergic, and skin-friendly
Free from alcohol and parabens
Moisturizing and cooling affect
Suitable for delicate skin
Recommended for newborns
Cons
Are wet wipes tearing up while using? You need these extra thick, extra caring, and extra moisturizing wipes for a better experience. Mildly scented to put off the strong odor, Little's Soft Cleansing Baby Wipes are robust yet ultra-soft with 98% water formula that contains natural ingredients like aloe vera, jojoba oil, and vitamin E. Offering your baby's skin the silkiest touch that also nourishes, these sensitive wipes provide oxidant protection too with its polyester and viscose material.
Pros:
Ultra-soft, nourishing, and moisturizing
Extra thick wet wipes
Oxidant protection
Free from alcohol and parabens
Dermatologist-tested
Hypoallergenic and pH balanced
Cons:
Not ultra-moist
Mediocre pop-up system
As soft as a sponge and with 3 times more moisturizing
lotion
, every sheet of Johnson's Baby Wipes guarantees 100% gentle care. Given that most diapers end up causing rashes or redness, these wipes promise to soothe, refresh, and moisturize on every swipe. Leaving a protective layer on your baby's skin along with a refreshing scent, Johnson's Baby Wipes is also soap-free, alcohol-free, and recommended for newborns.
Pros:
Sponge-like texture
Added lotion offers 3x moisturizing effect
Guarantees 100% gentle care
Soap-free, alcohol-free
Prevents redness and rashes
Passed through 5-level safety assurance
Cons:
The moisture may not last.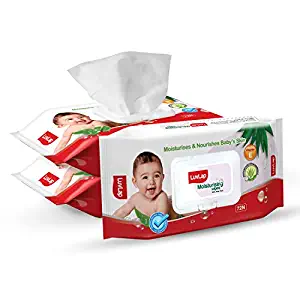 Don't let those rashes spoil your baby's mood. Treat them with the enriching power of aloe vera and chamomile extracts, which has antiseptic and anti-inflammatory properties. Does your little one have dry and sensitive skin too? Luvlap Moisturizing Wipes has vitamin E that helps retain the skin's natural moisture thus keeping them feather-soft, smooth, and happy.
Pros:
Alleviates rashes
Retain skin's natural moisture
Antiseptic and inflammatory ingredients
Non-toxic and pH-balanced
Prevents unwanted rashes and allergies
Dermatologist-tested
Travel-friendly
Cons:
It does not dispense easily.
No matter how effective the wipes are, if the protective cover loosens after opening, it may dry out the wipes easily. But not with Pampers Fresh Clean Baby Wipes, for it guarantees to lock the wetness for longer with its premium packaging. Also, these soft wipes have a firm-grip texture that offers the gentlest touch to the baby's skin and is easy-to-use. Turning those wailing moments into happy giggles, these wipes are refreshingly scented, pH balanced, and dermatologist-tested for delicate skin too.
Pros:
Firm yet soft sensitive wipes
Cleans gently and easy-to-use
Prevents tearing
Protective cover locks wetness for long
Dermatologist-tested
pH-balanced
Cons:
They may not be ultra-moist.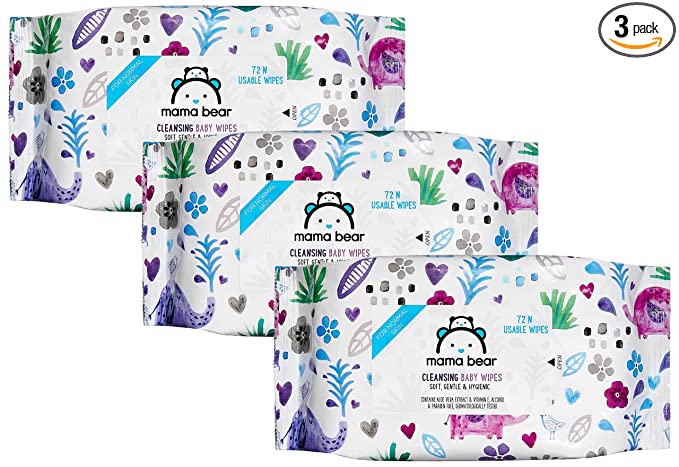 When it comes to the baby's skin, hygiene is a must to keep away the rashes and allergies. And what's better than including these glycerin-infused wipes in the cleansing routine? Not only do they clean the baby's bottom area thoroughly but moisturize them too. Plus, the aloe vera extracts and vitamin E offer a cooling and nourishing effect on the skin. Made of spun lace and non-woven material, these non-toxic wipes can be used for wiping hands and face too.
Pros:
Includes glycerin for thorough cleansing
It moisturizes, soothes, and hydrates skin
Free from alcohol and parabens
Hygienic and soft wipes
Trusted by dermatologists
Ideal for normal skin
Cons:
Huggies as a brand is well-known for its baby care products, but what makes this baby wipes special is that each wipe contains 68% pulp i.e. natural fibers! So, if organic baby wipes are what you are looking for, then Huggies Baby Wipes may be the one for you. Designed with triple care technology (thick, soft, and absorbent) they also contain cucumber, aloe vera extract, and vitamin E to provide intense cooling and moisture to the baby's skin. Lightly-scented, they are also clinically-tested for safe and gentle care.
Pros:
Organic baby wipes with 68% natural fibers
Thick, soft, and absorbent
Prevents diaper rash
Moisturizes with intense cooling effect
Clinically-tested
Soap-free, paraben-free, and MIT-free
Cons:
Delicate and may tear easily
Promoted as India's 1st hypoallergenic-certified wipes by SGS, these wipes are 98% water-based and the purest to suit even the most delicate skin. Highly recommended for newborns as their skin reacts to allergies or rashes quickly, Bey Bee 95 Water Wipes is not only dermatologist-tested but also MADE SAFE Australia certified. With each wipe enriched with vitamin E to moisturize and keep the skin soft, it's one of the safest ways to keep your precious little one clean and healthy.
Pros:
Prevents rashes and allergies
Keeps skin soft and healthy
98% water-based wipes
Hypoallergenic-certified by SGS
Suitable for delicate skin
100% quality assurance guaranteed
Cons:
The locking system is weak and the wipes may dry out.
These natural wet wipes are more like natural skin conditioners ensuring to keep the baby's skin soft, supple, and healthy. Understanding that a baby's skin is more delicate than an adult's, the brand guarantees to prevent
diaper rashes
even for newborns. Also, they are 100% biodegradable, 98% water-based, pure, and contain aloe vera and vitamin E for extra care! Need we say more?
Pros:
98% water-based and pure wet wipes
Proven to prevent diaper rashes
Keeps the skin soft, supple, and healthy
Intensely moisturizing
Hypoallergenic
100% Ayurvedic and environment-friendly
Cons:
The wipes are thin and may tear easily.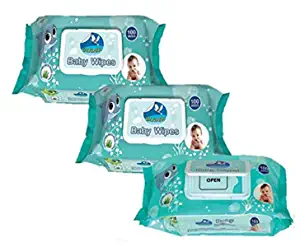 Let every nappy change session be therapeutic with these wipes that promise to be as gentle as water on your baby's skin. How? With its super-gentle, extra moisturizing, vitamin E, and aloe vera-infused wipes! Mildly-scented to calm the baby's mood, they are non-toxic and made of the softest material to glide on the skin without leaving any rashes or allergies. Promising to clean and protect with gentleness and care, the protective flip-top also guarantees to lock in the freshness for long.
Pros:
Therapeutic wipes
Non-irritant formula
Gentle and ultra-soft
Extra moisturizing
Alcohol-free and paraben-free
Prevents rashes and allergies
Cons:
How about going all-natural to avoid rashes and allergies? Like with these wipes from Mama earth that are 100% organic and made of bamboo fiber, which is more breathable than cotton. With each wipe assuring intense nourishment of shea butter, almond oil, aloe vera, lavender oil, glycerin, and more, the skin feels softer and smoother after every use. Trusted by pediatricians, Mama earth Organic Bamboo-Based Baby Wipes is certified by Made Safe Organization and also 100% biodegradable.
Pros:
100% organic bamboo
Infused with natural ingredients
Deep nourishment
Pediatrician-tested and clinically-tested
Non-toxic and 100% biodegradable
Travel-friendly
Cons:
Expensive
They may not be ultra-moist