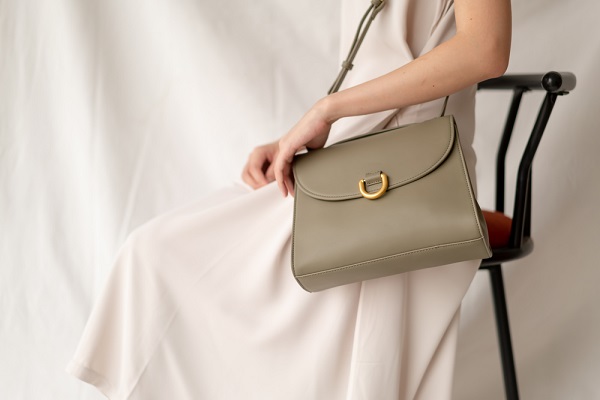 Behind every successful woman is a fabulous handbag. Over the last couple of decades in India, the numerous transitions within the handbag market have proven this more accurate than ever. The industry is booming with the latest Types of Handbags and it's brands that cater to the needs of just about every type of consumer, whether you like carrying it light or heavy. From minimalists to maximalists and everything in between, you can find your favourites from the top handbag brands in India in a large variety.
Here are some of the best handbag brands in India that you can shop from:
1. Lavie
Starting with one of the best bag brands in India currently, Lavie is about as popular as it gets. Launched in 2010, this brand has quickly climbed the ranks among the top handbag brands. Travels inspire the brand's designs that Shobha and her brother made throughout the most luscious regions of this country to scout for the most delicate art and materials.
This brand, whose name derives from the French phrase 'La Vie En Rose' meaning 'Life in Pink Hues', offers a large variety of affordable options for everyone.
2. Baggit
Starting with a mere sum of ₹7,000, Baggit is now one of the top bag brands in India and internationally. Nina Lekhi, Chief Design Curator of Baggit, launched this brand at a very young age with an ethos to dip their toes into classic designs instead of constantly chasing trendy ones.
With over 450 stores across India, Baggit is a household name for handbag brands. Baggit is also a vegan brand, so you can rest assured that all their products are cruelty-free. In addition, you can find extensive and versatile collections of handbags, sling bags, and many more from Baggit.
3. Peperone
Unico Retail is a famous fashion brand that manufactures accessories and lifestyle products for both men and women like wallets, handbags, crossbody bags, satchel bags, etc. Launched in 2010, Peperone showcased its first ever collection in Chennai, and in the following years, the brand has seen a lot of growth.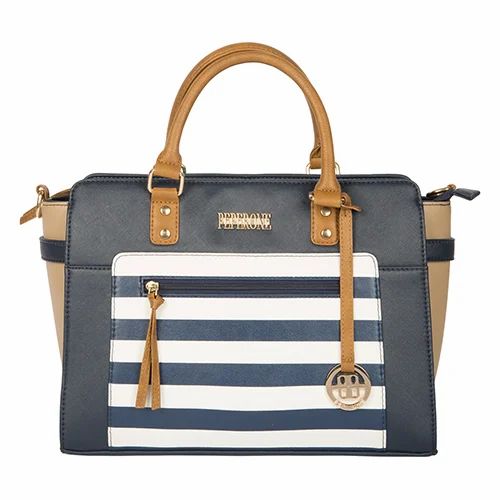 Known for offering products that are an ideal combination of progressive styles, fashionable elements and comfort, this is just the brand for today's youth. Also referring to the Italian spice pepperoni, the brand is meant to highlight the spicy side of your personality with its bold and enchanting handbag designs.
4. Hidesign
The story of Hidesign is about as inspirational as it gets. The brand started as just a hobby for Dilip Kapur, PhD holder in International Affairs, and is now one of the top 10 handbag brands in India and globally. It is recognised for its superior designs and personalised customer service that makes your shopping experience extremely memorable, so opting for a Hidesign bag is a must.
The brand offers a range of exquisitely handcrafted leather accessories that ensure maximum durability with an undeniable style. You can shop for your favourites at any online or offline store.
5. Lino Perros
Founded in 1999, Lino Perros is among the brands that wasted no time becoming one of the most popular choices for women everywhere. Posed as a sub-brand of Sumitsu Apparel, Lino Perros started with collections of men's accessories before expanding into the women's range.
Despite its popularity and high-quality handbags, this brand is known for being a very affordable option. With a combination of top-quality materials manufactured in the brand's manufacturing facilities and the subsequent cost cutting, Lino Perros has been able to sell its products in ranges no other brand does.
6. Da Milano
This brand was founded by Sahil Malik back in 2000. With a fashion design degree from the National Institute of Fashion Technology, Da Milano first set out as a leather goods exporter before taking its form as a luxury brand for accessories in the national and global market.
Made with top-notch materials and technology that offers you a range of products with quality as good as it gets, Da Milano is a brand you do not want to skip out on. While its handbags are state-of-the-art in terms of quality and affordability, you can also look at their other accessories like wallets, sling bags, laptop bags and many more in the same impressive range.
7. LADIDA
When the fashion industry is responsible for large amounts of pollution and ethical violations, LADIDA is a brand known for being the opposite. It largely popularised synthetic and faux leathers to minimise cruelty towards animals with its vegan approach.
This brand is also one of the most unique handbag brands you can shop from. Their ranges include quirky and edgy designs with never-seen-before colours and fabric combinations. LADIDA is easily among the top 10 handbag brands in India.
8. Esbeda
Esbeda is one of the best handbag brands in India that first came into the business in early 2006. Designed to appeal to the urban clientele by understanding the need for sophisticated and elegant designs in everyday wear, Esbeda is easily a go-to for women of all ages.
Its ranges feature a large variety, from formal handbags to bridal ones. With almost two decades of expertise in the field, you can rest assured that Esbeda offers you the best in quality, fabrics, designs and affordability. Due to its growing demand, the brand has its manufacture Fossil'sities in China, Taiwan and Korea.
9. Fossil
Famous for countless things, Fossil handbags are one of the primary reasons for its national and international success. Launched in 1984, it is also among the oldest brands you can shop from if you are looking for art cultivated from years of expertise in various handbag designs, fabrics and such.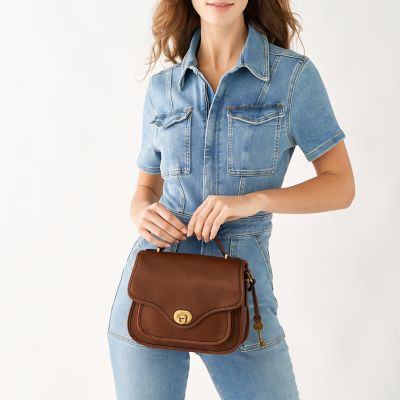 This high-end brand falls a bit on the costlier side, but it is an investment you will never regret. Its spacious compartments made from top-notch materials are bound to be a lifelong companion you pass down to other generations.
10. Kara
Launched in 2012, Kara is another brand that aims to focus solely on bags and accessories one might need for their workplace. Over a decade, Kara has learnt the needs of working people and has mastered just what is required to make one's work life even more productive.
By maximising the practicality of their handbag ranges while also keeping in mind never to let go of the style element, Kara is truly a brand that understands the needs of today's youth. So if you use your bags as a personal style statement, this brand is just what you need in your life.
11. The House of Tara
Also launched in 2012, The House of Tara was initially kicked off in the state of Delhi. It has now developed into one of India's most popular handbag brands, known for its trendy and stylish designs. Catering to the modern public, it offers you various prints, textures, fabrics and many other factors that make this brand a unique one to shop from.
The House of Tara also incorporates many embellishments like tassels, pouches, asymmetrical cuts and more in their designs that add a boho element you can easily flaunt on several occasions.
12. Caprese
Handbag enthusiast or not, Caprese is undoubtedly a brand name you have come across. Launched in 2012, the brand quickly became a leading handbag brand in India, a one-stop shop destination for women everywhere. You can find everything from casual and formal handbags to fancy ones!
With Alia Bhatt as its brand ambassador, the brand aims to redefine fashion with its classic yet voguish accessories that you can never go wrong with. Whether it is a clutch, hobo bag, sling bag or shoulder bag, backpack or handbag, the brand adds its distinct factor to it that you will not find anywhere else.
13. Calvin Klein
While mainly known for its collections of denim clothing items, Calvin Klein has also been dipping its toes in the handbag industry. As a result, it is garnering just as much appreciation as its counterpart. Staying true to the brand's foundation, every handbag you will find at Calvin Klein is highly durable, made to endure rough and tough usage.
It is one of the most iconic fashion brands on a global scale, now making a statement in accessories with its collections of superior quality products that are readily available in online and offline stores.
14. Tommy Hilfiger
This is another brand name that barely anyone has missed out on. Known as a premium clothing brand internationally, Tommy Hilfiger has earned the trust of countless customers in almost four decades of business.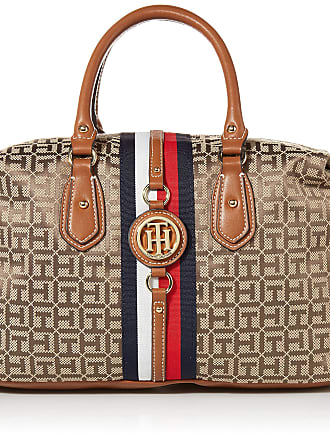 Its handbags are known for being uniquely crafted to be trendy and convenient. Versatility is assured, so you can stock up on a few classics that can be used for several events. Chic, elegant and practical, Tommy Hilfiger bags have everything one could need.
15. Cathy London
Last on this list is Cathy London, another top brand launched in 2013. The brand aims to inspire all its customers with a variety of spring and fall collections that perfectly capture the essence of every mood perfectly. Using vibrant colours in their products, Cathay London is sure to lift your spirits even on the dullest of days.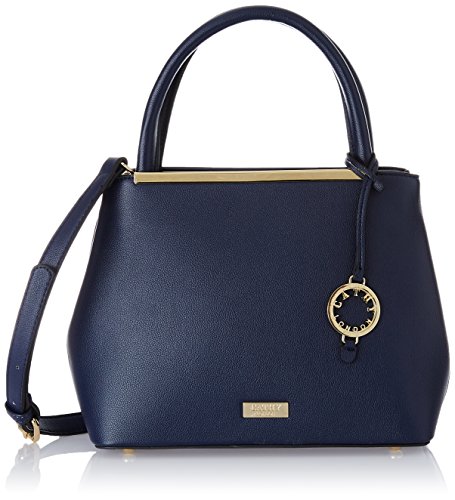 It also has a "No Cruelty" policy, making it one of the few eco-friendly handbag brands working towards improving the environment. Unsurprisingly, the brand is a massive hit among ecological activists and others.