Tea-tree oil is famous for its anti-inflammatory and anti-acne properties. Not only is it known for doing wonders to the skin but it also helps with dandruff and hair loss.
Packaging
Comes in a tiny dark blue glass bottle with a dropper attached to the lid and the instruction papers with it.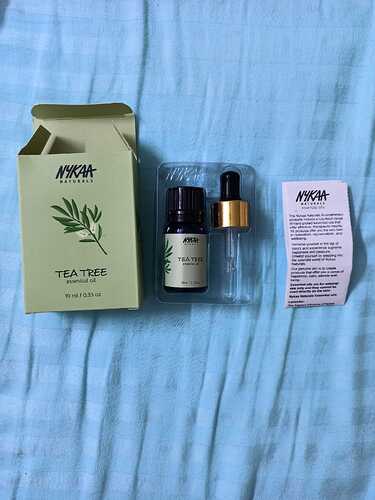 Facts
For Women/Men: Both
Shelf life: 3 years
Color: Transparent
Fragrance: Pungent but a very relaxing smell
My Experience
For my skin, I saw almost immediate improvement. I usually get one or two pimples around that time of the month and this oil just zapped them last month in no time.
I also saw my skin texture improve greatly after using this. It worked so well for my redness too.
The oil provided me with instant hydration which is essential for me given my skin gets drier during winter.
I used this almost every night with rosewater and my skin always glowed and always felt soft.
As for my hair, I think I would have to continue using it further in order to see results because 1 month was not enough for me to observe massive changes.
But I have to admit that my hair was softer than usual every time I applied the essential oil and definitely looked and felt very healthy and moisturized.
How to use Nykaa Naturals Tea Tree Essential Oil?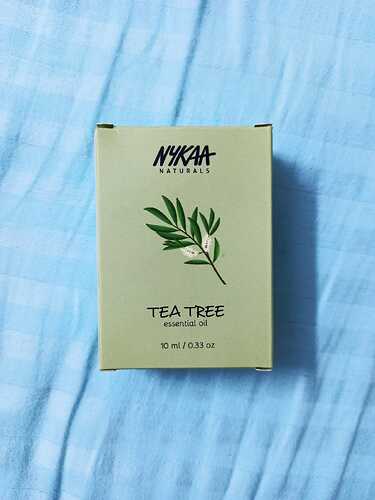 When you want to apply it to your skin, make sure that you don't use it directly and that you have washed your face. Take a piece of cotton, pour a few drops of rosewater onto it. Then, pour a few drops of the tea tree oil onto the same piece of cotton and apply it to the affected areas of the skin. Make sure that you always apply the essential oil diluted because a direct application could cause skin reactions like irritations, breakouts, etc.
You can use this oil on the days you want to wash your hair. Take some amount of shampoo onto your palm and in that, mix a few drops of tea tree oil and wash your hair with it. You can also mix it with coconut oil and massage your hair and then proceed to take a head bath.
You can directly apply the oil on nails using a piece of cotton.
When to use Nykaa Naturals Tea Tree Essential Oil?
For your skin, you can use this oil every night before going to sleep.
In case of your hair, you can use this oil every time you take a head bath.
And for the nails, you can use this oil as and when you feel like it.
Pros & Cons of
Pros
Reduces blemishes
Provides hydration
Affordable
Easy to apply
Rejuvenates skin
Cons
Quantity is too less for someone who would want to use it for skin, hair, and nails on a regular basis.
Final Verdict
A budget-friendly miracle worker for skin, hair, and nails! Absolute must-buy!
Our Ratings : 9.8/10
Price : INR 350 for 10 ml
Link - Nykaa Naturals Tea Tree Essential Oil for Acne & Dandruff Control - 100% Natural: Buy Nykaa Naturals Tea Tree Essential Oil for Acne & Dandruff Control - 100% Natural Online at Best Price in India | Nykaa