K.P.Namboodiri's Dantadhavanachoornam (Ayurvedic Toothpowder) is a combination of time-honored medicinal herbs.

These special ingredients fight dental diseases and fortify immunity. Regular use will strengthen gums, add freshness to breath, and will give that beautiful pearly white luster to teeth.

Massaging your teeth and gums with this tooth powder by using your finger daily two times will save you from all your teeth and gums problems.

Continue using helps to make your gums strong. It's helpful in gum bleeding, within one or two weeks of using this powder will show phenomenal results.!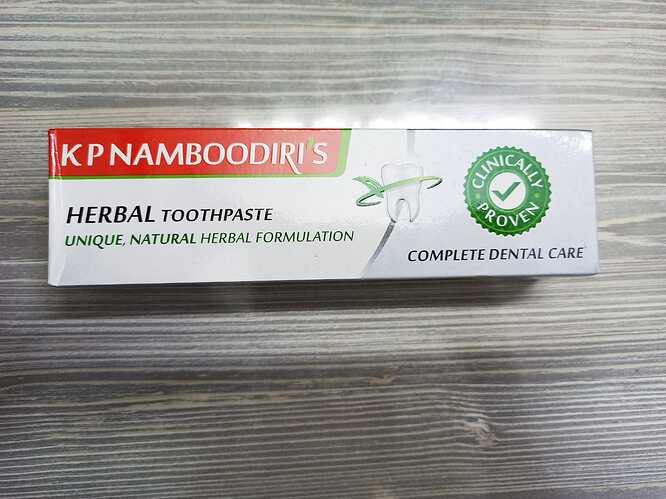 Features:
Enriched with the goodness of natural ingredients.

Keeps mouth free of plaque.

Ensures healthy and strong gums.

Leaves mouth with a fresh breath.
Key Ingredients and Benefits:
Ginger: It can help reduce nauseous and stomach issues. It is good for teeth and gums, raw ginger helps remove plaque from the teeth.

Black Pepper: Extremely effective at curing bacterial infections in the mouth, it helps repair the damage by free radicals (oxidants).
Ingredient:
Calcium Carbonate, Glycerine, Water, Dicalcium Phosphate, Dihydrate, Sodium Lauryl Sulphate, Extracts of Ginger, Black Pepper, Long Pepper, Terminalia Chebula, Gooseberry.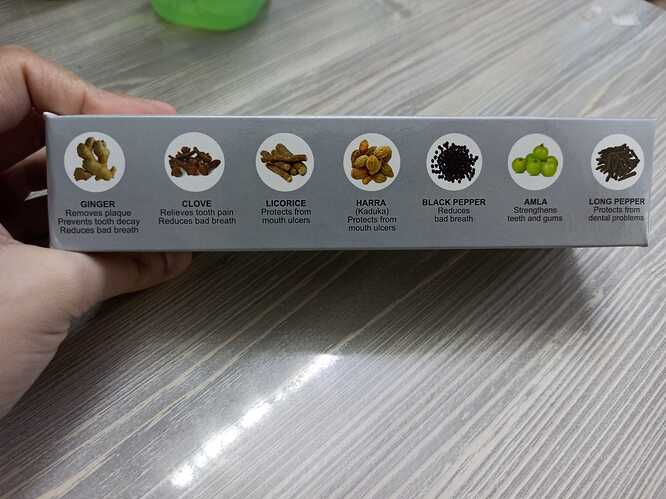 How to use:
Adults and children, apply the paste onto a soft bristle toothbrush.

Brush thoroughly after meals or at least twice a day.

Rinse thoroughly with water after the brush.
My Experience:
You must try the K.P. Namboodiri's Herbal Toothpaste that is a healthy alternative to highly commercialized toothpaste available on the market which is made of harmful substances like parabens, sulfates, fluoride, and triclosan.

K.P. Namboodiri's Herbal Toothpaste is just below Rs. 100, and is made with Ayurveda wisdom and you must try to keep your teeth and gums strong and healthy with good oral hygiene as recommended by Ayurveda.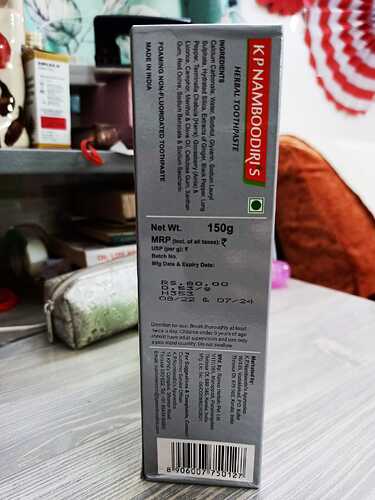 So, if you are the one who values holistic wellness, and believes in the power of Ayurveda then this mind shift to herbal toothpaste will surely help you in the long run for your oral health.
Link for purchase:
K.P. Namboodiri's Herbal Toothpaste: Buy K.P. Namboodiri's Herbal Toothpaste Online at Best Price in India | Nykaa

https://www.bigbasket.com/pd/40076903/kp-namboodiris-herbal-tooth-paste-150-g/?z=MzE0OTkyNTYwOA&utm_source=google&utm_medium=cpc&utm_campaign=Chennai-PLA%2F&gclid=Cj0KCQjwlPWgBhDHARIsAH2xdNdF7a1UYkdq2AdH0p4vQ41PMxj21FcX6L-O1D-3ajc6ovSNHUpILooaAkVOEALw_wcB